Velo-city Global 2012 Promotes Liveability through Cycling
One of the world's most liveable cities is trying to expand its horizons by making the world more liveable through cycling. Vancouver Canada, voted the World's Most Liveable City by The Economist magazine three years in a row from 2008-10, is hosting Velo-city Global from June 26-29, 2012.
Velo-city Global is the world's premier international cycling planning conference. Spread out over four days, it will provide delegates from around the world an opportunity to share best practices for planning, creating, and sustaining cycling-friendly cities. By recognizing bicycles as an important part of daily life for people of all ages, it will serve to not only promote cycling as a viable, and efficient, mode of transport, but as an integral component in fostering greener, healthier communities, and more liveable urban centres overall. There will be no shortage of bicycling inspiration at Velo-city Global 2012, both within the conference, and outside in the host city.
The conference theme of Cities in Motion could just as well be referring to cities heading in the right direction as far as their residents are concerned. Four other cities ranking in the top ten of either The Economist's World's Most Liveable Cities, or Mercer's Quality of Living Survey, will be present: Vienna Austria, Copenhagen Denmark, Helsinki Finland, and Adelaide Australia.
Program themes at Velo-city Global 2012 will include:
Leadership and the politics of change
The latest urban planning and cycling infrastructure
Safety
Growing cycling transport mode share
Empowerment and inclusivity
New technology.
Additional pivotal themes:
Public bike sharing initiatives
Combined mobility through the integration of cycling with transit and other transport modes
Movement of goods by bicycle
Tourism opportunities
These key topics will stimulate continued interest toward improving not only mobility, but also the environment, and the economy while providing momentum to keep cycling moving in the right direction - forward.
Mayor Gregor Robertson and the City of Vancouver have committed to making Vancouver a cycling city through their Active Transportation Master Plan, part of a green transportation initiative designed to give Canada's third largest city, host of the 2010 Olympic and Paralympic Winter Games, another top tier finish on the podium. Going for gold, Vancouver aims to be the greenest city in the world by 2020.
Compact, higher-density neighbourhoods, combined with integrated bicycling-transit solutions, and 400 lane-kilometers of bicycle facilities have promoted a network of greater mobility. Improved connections between homes, work, shopping, and the city's many parks and beaches not only make Vancouver a recreational playground, and arguably one of the most beautiful cities anywhere, but also one of North America's top cycling cities.
Perfectly situated for exploration, whether by bicycle, boat, train, bus, or car, Vancouver is also a gateway to the spectacular scenery of the Pacific Northwest. Nestled between the Pacific Ocean and the rugged Coast Mountains, visitors can be as adventurous as they like: paddling the calm waters of False Creek, experiencing the combined cycling-walking path around the beautiful Stanley Park Seawall, or taking on world-class mountain biking trails a mere 30 minutes from downtown.
Velo-City Global is Vancouver's latest international event: one that will share a sustainable, cycling-friendly vision with the world, one speaker, and one pedal stroke at a time.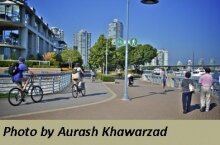 Posted on January 26, 2012