Gil Penalosa set to open, and close Velo-city Global 2012
It can't be easy being Gil Penalosa. But, he makes it seem that way. Who else would try to promote cycling, and greater cycling infrastructure for the common good by deliberately, and without a trace of irony, not talking about it?
Well, according to the Executive Director of Toronto, Canada based non-profit 8-80 Cities, this is exactly how you win over the decision makers – the politicians. One has to speak to the benefits, and the essence of a world where cycling plays a greater role, and leave the hard sell behind. 
He sounds more like a highly successful advertising executive than an award-winning liveable city advisor. And, it sounds like the internationally renowned, and much sought after speaker will have plenty to say as the opening and closing speaker at Velo-city Global 2012.
Read more about what Gil Penalosa says, or doesn't say here, in the recent interview conducted by Julian Ferguson, Communications Officer for the European Cyclists' Federation.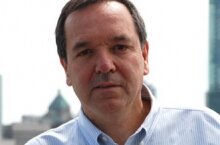 Posted on March 06, 2012