Full Circle at Velo-city Global 2012 in Vancouver
The wheels will be turning June 26-29, 2012 in Vancouver when the most complete global conference on cycling planning and infrastructure development rolls into town – and even though June is "Bike Month", bicycle wheels won't be the only things turning.
Velo-city Global 2012 will engage cycling minds from around the world. Politicians, engineers, planners, architects, academics, researchers, environmentalists, advocates, educators and industry representatives are a few of the groups represented. Some will be leaders, others will be experts, and many will be visionaries.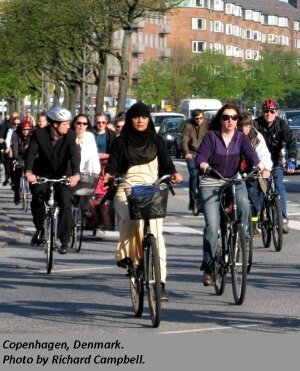 Niels Tørsløv, Director of Copenhagen's Traffic Department, recognizes cycling as a vital part of sustainable urban transport systems, and their policies. He is also aware of the growth in cycling popularity from what Velo-city Global 2012 would term the "Forerunner Cities", to the "Climbing Cities."
Copenhagen is often used as the gold standard to which all cycling-friendly cities are compared. Forward thinking, with an environmentally friendly and sustainable bent, it is surprising to some when they learn its director of traffic operations is a trained landscape architect. Maybe less surprising is Niels Tørsløv's focus on safety as being integral to the success of cycling policies, especially in newly emerging cycling cultures.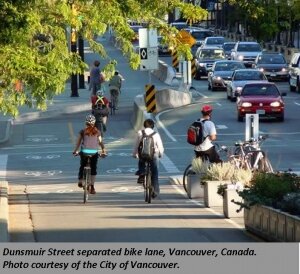 It is just this type of synergy that provides expertise and inspiration to the likes of Vancouver Mayor Gregor Robertson. Cycling is a big part of Robertson's Greenest City 2020 Action Plan; a plan that could make Vancouver, already the North American poster child for the Velo-city Global 2012 conference theme "Cities in Motion", the greenest city in the world. 
As part of their infrastructure initiatives, Robertson and his team have championed integrated bicycle-transit solutions, and grown Vancouver's network to 400 lane-kilometers, including new separated bike lanes downtown. They are studying the feasibility of a public bike share program (PBS).
This is great news for Manfred Neun, President of the European Cyclists' Federation, founder and owner of the Velo-city conference series. According to Neun, "It's hard to imagine a situation where bicycles don't offer any solutions. We need Velo-city 2012 Vancouver to learn more about active mobility, build up a cycling culture beginning with our children, and gather best practices from all over the world."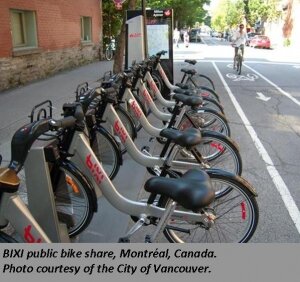 This is also great news for groundbreaking visionary Alain Ayotte, President and CEO of Montréal based Public Bike System Company, designer and distributor of the BIXI bike sharing system. A resounding success after its introduction in Montréal in 2009, BIXI has ridden a wave of PBS support, which has taken it to London, Melbourne and Washington DC, to name a few of its international cities. What's more, public bike shares are now a key component within the integrated transportation plans of a growing number of new cycling-culture cities, as well as being a pivotal theme of the conference.
So, we have come full circle, and in the true spirit of collaboration, delegates at Velo-city Global 2012 will share best practices promoting the creation, and sustaining of cycling-friendly cities. In this way, today's "climbing cities" like Vancouver, with the benefit of European expertise, and new ideas in transport such as public bike shares, will be enabled, and become the "forerunner cities" of tomorrow, like Copenhagen. 
And that's just fine with the ECF President Manfred Neun. "That's the message I'll be spreading at the International Transport Forum in Germany this year", says Neun, "and that's why I'd like to see you all in Vancouver."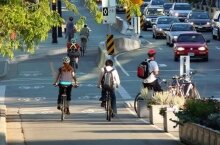 Posted on February 25, 2012